We're traveling with Little Jet Set
As msot of you know the girls and I are leaving April 6th, and going to Kansas City to Hallmark headquarters! The girls and I are both really excited. We get to meet some other mom bloggers, and the girls get to see their cousin Kaila!
While travel experts predict that more people will be staying home this summer due to the recession, they are also encouraging those with discretionary income for travel to hit the road and take to the air. With the U.S. dollar surging, gas prices at their lowest levels in four years and hotel rates softening, 2009 is the year of travel deals. However, regardless of what travel bargains abound, for many parents, the idea of traveling with young children to another state, let alone to another country, is as appealing as drinking rancid milk.
Fortunately, parents can turn to LittleJetSet.com for an array of travel accessories, toys, games, puzzles, activity books and more, all of which are designed to keep kids comfortable, organized and occupied on trips near and far. Little Jet Set believes that the prepared parent is the happy parent on trips.
Parents will be delighted to discover that a variety of unusual and functional travel items are just one mouse click away at www.littlejetset.com. With such a wide selection, parents can easily find products to keep youngsters completely outfitted for a variety of family excursions.
Of course we have never really traveled before, and although Sam has a cute luggage with wheels it definitely is too small for both of the girls to put all their stuff in.
Thankfully Little Jet Set came to the rescue! Sarah now has her very own duffle bag! I asked her which duffle she liked and she picked the Hippie Chic Overnight Duffle by Room It Up.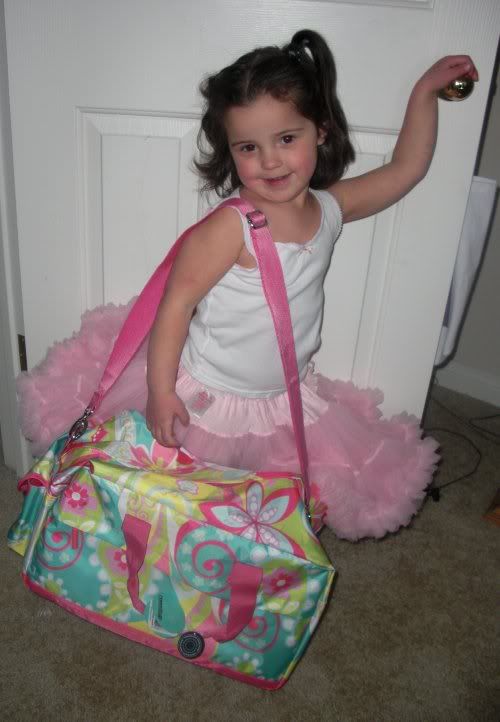 Going somewhere? Be sure to get there in style with this hip Overnight Duffle Bag. You will love the ample storage and with two interior mesh pockets you will be able to keep all of your stuff organized. A hidden front outside zip pocket and a convenient Velcro side pocket are perfect for easy access to all of your essentials! Adjustable shoulder strap included.
Perfectly sized for overnights or carry-on
Fully Lined & Embroidery Friendly
Two interior pockets
Zippered exterior pocket
Detachable shoulder strap
Dimensions: 11.25 in. x 16.75 in.