Support World Breastfeeding Week
The World Breastfeeding Week (WBW) is the greatest outreach vehicle for the breastfeeding movement, being celebrated in over 120 countries. Officially it is celebrated from 1-7 August.
I nursed both of my girls, Sarah longer than Sam but in the end they both were feed from the breast. I nursed Sarah until she was one, she didn't have anything else but breast milk until she was 7 months old and at 12 months she self weened. we didn't stop because I wanted to but she was ready and wanted to explore the world.
Nursing your baby is one of the most amazing gifts a mom can give. The nutrients and of course the bonding is amazing. When I was nursing Sarah I had a family contact me about donating breast milk to their preemie twins. I of course knew how important breast milk is to infants and was all for donating to them. What a wonderful gift I could give to another family.
I am a mom from both sides, a formula feeding mom and a nursing mom. I see nothing wrong with both but am a huge on breastfeeding first. If it doesn't work for you and your baby I understand but give it a try first. Once you nurse you don't go back!
what we do need to do is let people know there is nothing wrong with breastfeeding is it by far one of the best gift you can give your baby. We need to let people know it is natural, there needs to be places for moms to be able to nurse their baby. That is one thing I love about Nordstroms is they have a very nice lunge for nursing moms. Sea World and Disneyland both ahve places for moms to go and nurse. I went to both parks while nursing and was pleased to see facilities where I could go nurse in private.  Although I also walked around wearing my baby while nursing.
I could go on about breastfeeding…… So please support breastfeeding week. Help get the word out! To learn more about how you can help please visit worldbreastfeedingweek.org
What we called "milk drunk"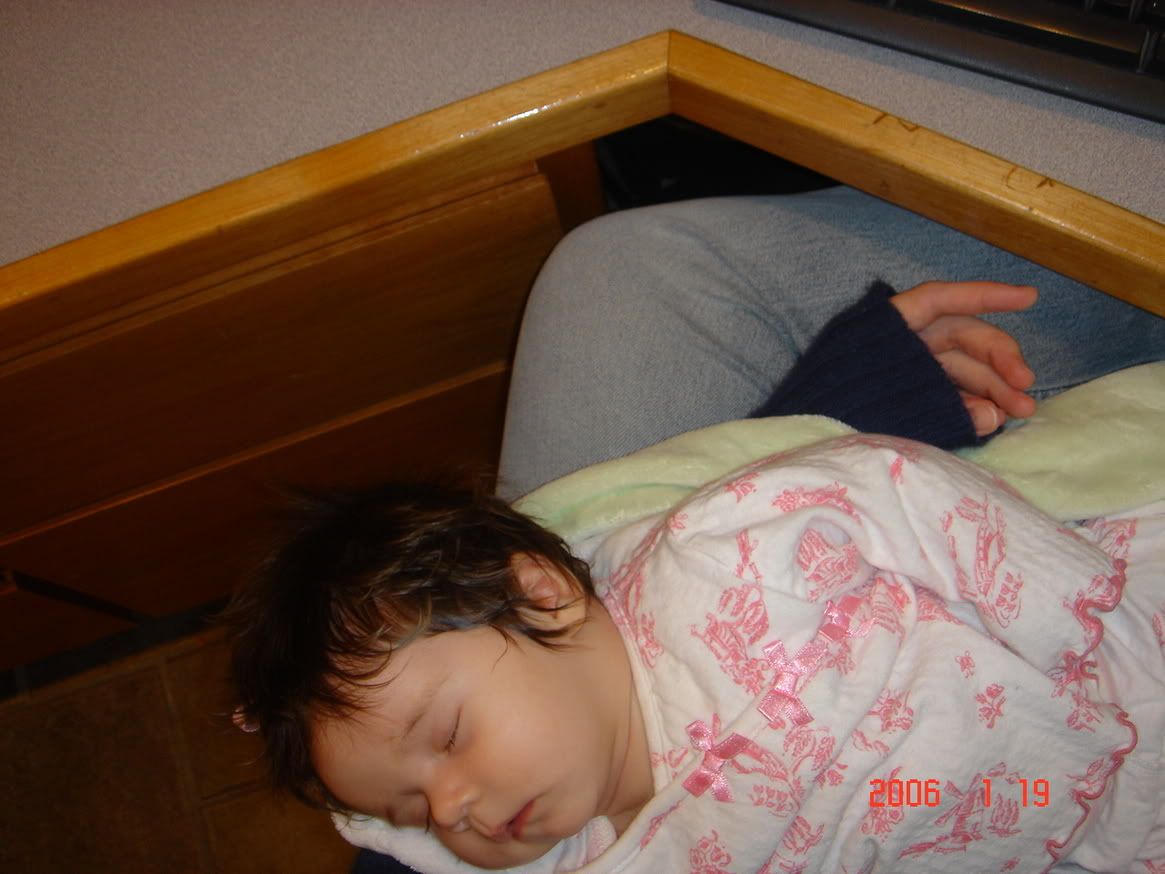 OBJECTIVES OF WORLD BREASTFEEDING WEEK 2009
To draw attention to the vital role that breastfeeding plays in emergencies worldwide.

To stress the need for active protection and support of breastfeeding before and during emergencies.

To inform mothers, breastfeeding advocates, communities, health professionals, governments, aid agencies, donors, and the media on how they can actively support breastfeeding before and during an emergency.

To mobilise action and nurture networking and collaboration between those with breastfeeding skills and those involved in emergency response.
RATIONALE
Children are the most vulnerable in emergencies – child mortality can soar from 2 to 70 times higher than average due to diarrhoea, respiratory illness and malnutrition.

Breastfeeding is a life saving intervention and protection is greatest for the youngest infants. Even in non-emergency settings, non-breastfed babies under 2 months of age are six times more likely to die.

Emergencies can happen anywhere in the world. Emergencies destroy what is 'normal,' leaving caregivers struggling to cope and infants vulnerable to disease and death.

During emergencies, mothers need active support to continue or re-establish breastfeeding.

Emergency preparedness is vital. Supporting breastfeeding in non-emergency settings will strengthen mothers' capacity to cope in an emergency.