Share your love story with Kodak Zi6
I recently was asked to try out the amazing Kodak Zi6 Pocket Video Camera. One thing that Kodak asked me to do was make a Love video for someone I love with the new Kodak Zi6. Which I did, I decided to make a video to my Hubby. You can find that video at the bottom of this post.
First I want to tell you that the Kodak Zi6 is so easy to use. I was really impressed with it. Become an instant celebrity or paparazzo! This sleek pocketable design is built for easy video—there is no lens cap, no dials to turn, or settings to set. Just turn it on and hit record to capture the action, adventure, and all the juicy details in stunning HD! Make your cinematic debut on any HDTV. Or just pop the USB in the nearest PC and you're ready to share the fun on YouTube™. Edit, add music, and personalize your flick and easily share with your adoring fans. There's no such thing as "you should've been there" with the Zi6.
I love that the Zi6 has a 2.4 LCD screen for viewing, that is much larger than the Vado and the Flip (see below) The Zi6 is all way on the left with the Flip in the middle and the Vado on the right. As you can see the Flip's viewing screen is considerably smaller than the Zi6.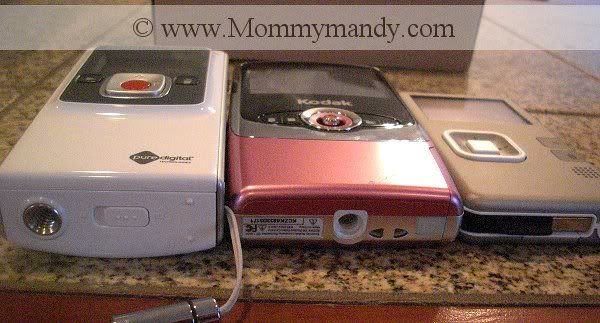 So I am sure your asking which one I like best right? Well I have to say that the Zi6 is AMAZING! I was really surprised by the quality of the videos, and I LOVE the larger LCD viewing screen!
Here is a quick video I did of the Kodak Zi6
Everything you need to shoot, watch and share HD video
KODAK Zi6 Pocket Video Camera
(2) AA pre-charged Ni-MH rechargeable batteries
Battery charger
HD and AV cables
Wrist strap
Camera pouch
User Guide
ARCSOFT MEDIA IMPRESSION Software for Kodak (PC only)
Here is a video of SarahB with the Kodak Zi6.
Jack our doggy

Here is my love video to Hubby: