Sears/Kmart Home Design Blogger Summit
Last week on Tuesday I flew to Chicago for the Sears/Kmart Home Design Blogger Summit at Sears Holding Corporation. We got there on Tuesday and luckily I had about an hour to relax in the room with Tanya and catch up on the past week. At 6 we went to a wonderful cocktail party and delicious dinner! mmm… pasta my favorite! We were able to meet all the moms, some I have previously met so it was fun to see them again and meet new women who I have talked to. Like Stacy from Mom Central. What a hoot she is!
All the ladies were so sweet and I had so much fun! We also were able to meet and chat with the Sears/Kmart Design Teams.
Here's a list of everyone who was there:
Christine From Dates to Diapers
Miranda from Keeper Of The Cheerios
Jennifer from The Mom Salon & Mom Bloggers Club
Erica from 5 Minutes for Mom
Felicia from Go Graham Go
Lori from A Cowboy's Wife
Stephanie from Adventures in Babywearing
Piera from Jolly Mom
Paul from The Smart Stylist
Gabriel from Design Mom
Liz from Cool Mom Picks
Stacy from Mom Central
Amanda from Mommy Mandy
Tanya from Mommy Goggles
Janel from Apartment Therapy
Louise from Mom Start
Esther from FaintStartLite
Here is a picture from the meet and greet dinner of Tanya and I: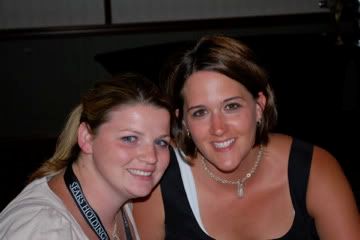 Wednesday morning Tanya and I woke up and went and had a nice breakfast together. We were both feeling very tired. But so excited about heading to Sears Holding for the Design Summit! Just as we were done eating in walked Stacy who had just went to the gym! You go girl!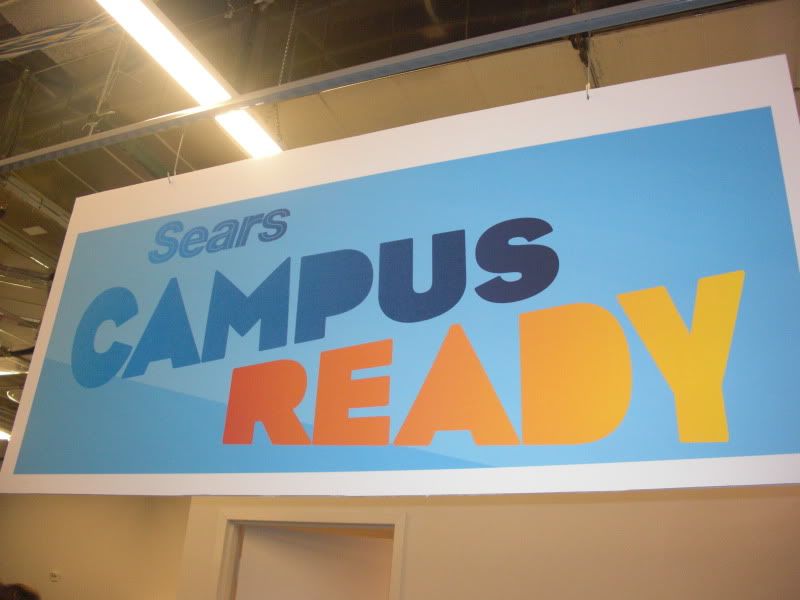 We all met up right before 9am and were so eager to head over to the Design Summit. Right away we were met by the Design Teams. I was so excited to actually meet the head home design team (Theresa, Rick, and Chris) as well as the other designers.
I truly had no idea just how much Kmart and Sears Designs have changed. SHC knew what they were doing to grab talent from some of the world's most recognizable home furniture brands like Pottery Barn, Ralph Lauren Home and Martha Stewart. All of which I am in love with but are so expensive. Well, you would think that these new designs came straight out of Pottery Barn, but at a much more reasonable price.
I was very impressed with all the new lines from Ty Pennington Style and Jaclyn Smith Traditions to the Campus Ready dorm decor and their newest line, Country Living.
SHC really knows how to treat us bloggers, they had wi-fi ready and during discussions we were all tweeting away! You can read about our discussions from our hashtag #DesignSummit
Christine tweeting away:

We were also given a tour of SHC Back To Campus rooms. Oh my goodness, they are fabulous. Not only are they perfect for the college kids but tweens will love them as well. Did you know that each room you can create for under 500 dollars??? Amazing right?
We were all in love with the new designs and impressed with the quality and prices. Quality is very important to Kmart/Sears and work very hard to keep the prices down. Just because the prices are low doesn't mean you're sacrificing quality.
I love the Kmart Colormate XL Microfiber Comforter Sets. Not only are they amazingly soft but each set comes with the comforter, pillowcase and sham for 24.99. You can pair them up with matching sheets for 14.99.
We also were able to see the Trend Room. This is where a lot of work is done and unfortunately we were not allowed to bring cameras or camcorders into the room. But we were all impressed and can't wait to see the designs for next year! They are even working on 2011 designs! Even though I can't show pictures you can check out this awesome video of Theresa sharing Design Boards: Trend Trip Video
After seeing the amazing Trend Room we were shown the Jaclyn Smith Room, the Cannon Room, the Ty Pennington room and Country Living. I have to say that it was so neat to see how they come with ideas and the inspirations behind the designs. We got to see the Design Boards, to the actual approved products. We also learned about what made a item for Kmart and what made it Sears. Like Kmart designs are all printed, you wont see a lot of ruffles, or embroidery but you know what you wouldn't even know it was from Kmart! These designs are incredible and I wish I could redo my home with Ty Pennington Products!
You can see more pictures of the design Rooms on Flickr. (Thanks Gabby).
I also love Country Living! After seeing the design room we saw the actual products and they are beautiful.
More pictures from the Design Summit: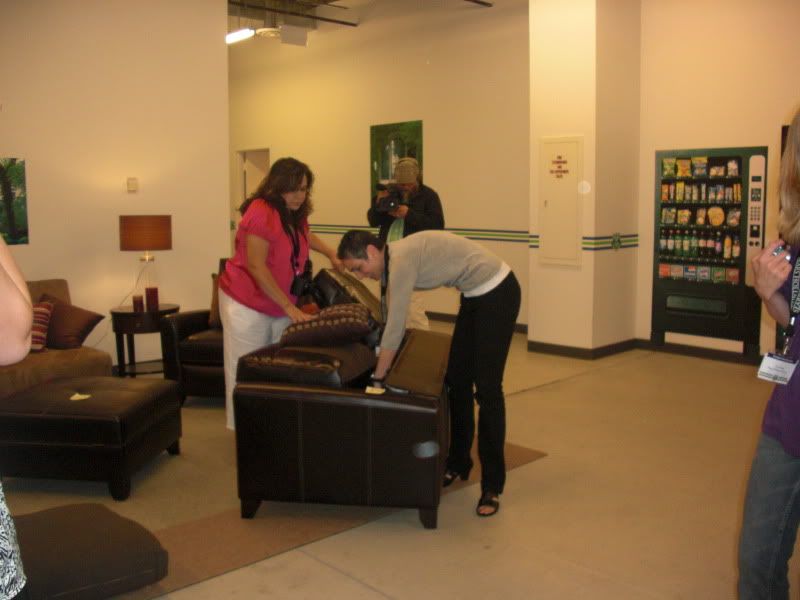 Christine & Tanya both thought these were real: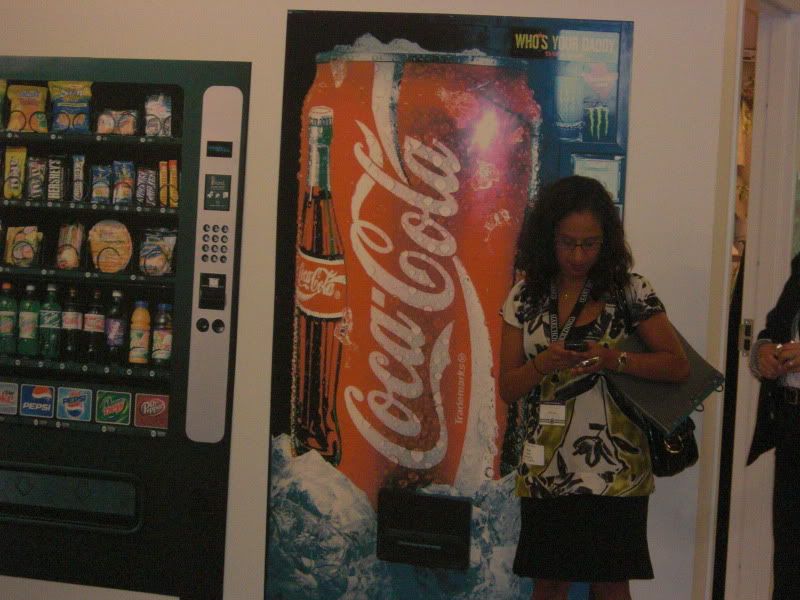 Candy we got to take home: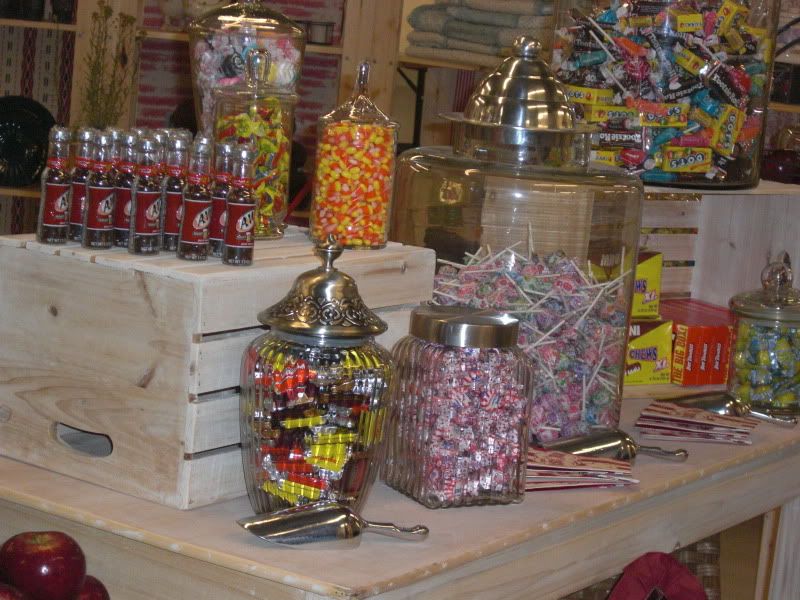 Tanya and I also had the chance to be interviewed by Chicago's ABC news. We heard it will be run on July 20th.
After the Summit was over the shuttle took us all to the airport. It was great to sit and have dinner with some of the girls and talk on a more personal level. The girls are so sweet. I had a lot of fun chatting with Erica (5MinutesforMom), Christine (From Dates to Diapers), Louise (MomStart), and Miranda (Keeper Of The Cheerios). I can't wait to see them all again at BlogHer!
And you HAVE to go see the pillow fight picture of Tanya and Stacy. You'r gong to laugh so hard.