Master Bedroom Organizing!
It always seems that my room gets really dirty really fast! I always find myself throwing everything in my room and to go back and organize and clean up at a later time. It's also the place where I put all my blogging stuff before I use it, test it, and put t away.
One thing I did buy for the closet was one of those DOUBLE HANG CLOSET ROD in CHROME . Which I put on Hubby's side to organize his clothes. So above the rod is his pants/jeans and on the new rod is his tees. I also had to move is shoes from under his clothes to the side of the closet.
One thing I still need to do is buy us all new hangers. I am tired of the plastic ones that are bending from the jeans. I am also tired of the metal ones from the Dry Cleaners.
So here is our table accross from our bed.
BEFORE:
AFTER:

CLOSET BEFORE: (click to enlarge)
my side and hubby's side

CLOSET AFTER: (click to enlarge)
my side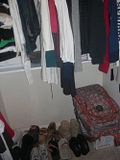 Hubby's side

SIDE TABLE/BEHIND DOOR BEFORE: