Another year of swim lessons
Yesterday was the last day of swim lessons for the girls. They both did very well. The last day of lessons is spent testing the kids on what they learned and where they will be placed next year. In two weeks I have seen my children really learn a lot, not jsut about swimming but also about water safety in general.
On the first day of lessons Sarah learned that she had to hold onto the side the entire time. She let go and walked into the middle of the spa of course she sank, and Kailey had to talk to her about why they hold onto the side when they are not with her.  For the remainder of the two weeks she didn't get go of the sides!
Samantha is my fish! This year she was in advanced beginner and has been moved to Intermediate for next year! What I was surprised to see is Samantha swimming the length of the pool, doing the survival float, diving and threading water. She reminds me of myself when I was 6 I was with the older kids jumping off the diving board.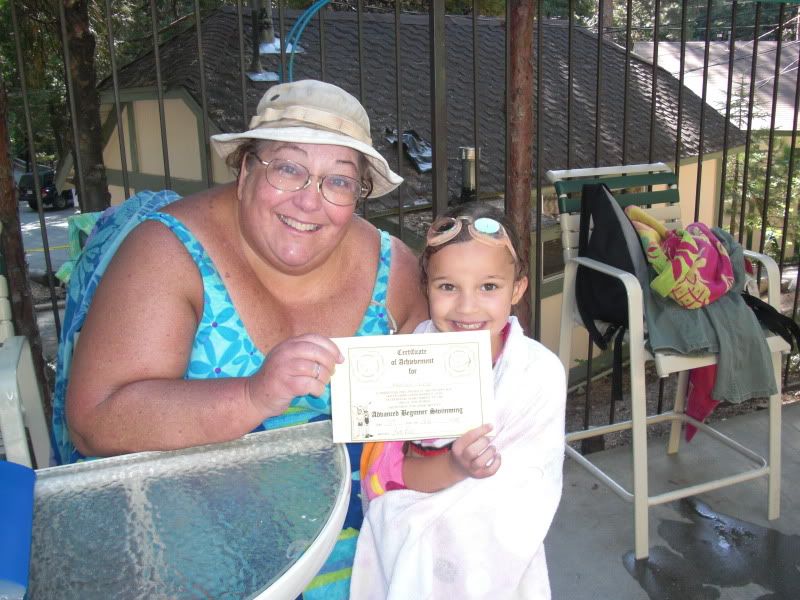 Sarah was in pre-beginner this year and was absolutely adorable. This was her first year without me and if anyone knows Sarah she is such a mommas girl. she hates doing anything without mommy. But my baby is growing up and did great. Kailey (her teacher) even had her swimming! She will be in Pre-Beginner again next year since she will be 4 but if they feel she can move up they will just put her in beginner next year.