Sylvania LED PalPODzzz Portable Ladybug Nightlight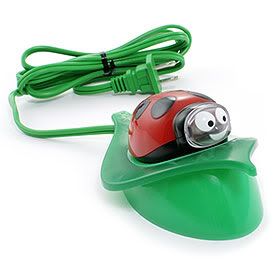 Many kids are afraid of the dark, but the Sylvania LED PalPODzzz Portable Ladybug Nightlight provide peace of mind to children and ease those fears. This nightlight is in the shape of a ladybug and rests on a charging station shaped like a leaf and has a built-in photo sensor that triggers the product to glow in the dark.
The ladybug turns into a portable flashlight with a bright LED that automatically lights up when it is removed from the charging station. It will also turn on if there is a power outage and it can be turned on and off at the press of a button. The nightlight will stay lit up to 5 hours on a single charge to help the little ones through the night. The safe, non-contact charger design has no exposed electrical contacts. The night light is ideal for parents of young children as a tool for nighttime reading, playing with friends or as a power failure safety light.
When our adorable PalPODzzz Portable Ladybug Nightlight arrived the girls were really excited. They are fascinated with Ladybugs and of course lights! Both of the girls love that the ladybug itself can be used as a flashlight, and both pieces glow at night giving just enough light to keep them from getting scared.
Rechargeable nightlight provides safety and security for kids
Automatically illuminates when lifted from charger, during a power outage, or with the press of a button
Built-in rechargeable batteries last up to 5 hours after a full charge
Huge thanks to EM for this opportunity!