and the rest is history is having a fun and cute giveaway. You could win a 20 dollar gift card. All you have to do is post a silly picture!
hmm what silly photo should I enter? I have a few.
First would be Samantha's lovely wall painting. My in laws were having their house repainted and the painter left his paint down, seriously what two year old could resist wet paint? My favorite part is the tiny feet print leading from the crime scene. Although my mother in law was a little upset we all were laughing hysterically. The painter didn't find it quite as funny as we did.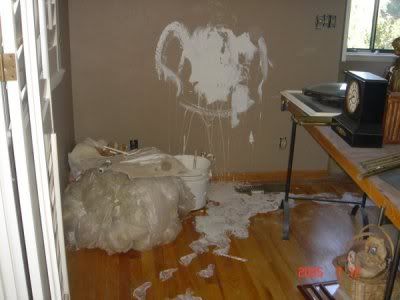 And of course I have to share my sweet Sarah. I shared this one recently on photo hunt MESSY.
but I just love it. She had so much fun sitting out on the patio with chalk and water making paint. They were entertained for hours!