My girls are girly girls, they love to play dress up, play with make up and of course paint their nails!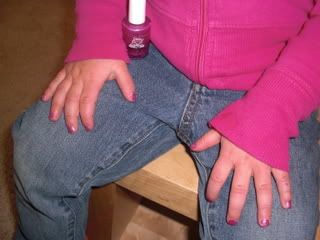 I have always been leary when it came to painting the girls nails, only because I didn't want them to chew or bite at their nails and the toxic polish be ingested. So when I heard about Piggy paint I was very excited!
So we received the cutest color of nail polish from Piggy Paint. The color the girls got is called Girls Rule! See Sarah to the right with her freshly painted nails holding her bottle of nail polish?! The first thing I did when I opened up the nail polish was smell it. You all know that smell that nail polish has and I was very surprised that this nail polish from Piggy paint does not have a bad smell at all to it.
Why is Piggy Paint™ Nail Polish the safe nail polish choice for children?
Non-toxic
Odorless
Water-based formula
Hypoallergenic
Fun, vibrant colors
Dries to a hard, durable finish
Piggy Paint™ is specially formulated from God's natural ingredients and dries to a hard, durable finish. There are no toxic chemicals; it's free of formaldehyde, toluene, phthalates, biphenyl A, ethyl acetate and acetone.
Say good-bye to harsh, smelly chemicals and hello to Piggy Paint™…it's as Natural as Mud!