The month of May brought many, many milestones for my girls. I can not believe how much they are growing and every day they learn something new.
Samantha lost her 4th tooth this month! She also learned to swing on a swing set and learned to tie her shoes. I am very proud of her. In school she has learned all of the letters and the sounds they make and is now putting each sound together to read words. I am excited to see how she does when she starts kindergarten in the fall.
We have also started Sam in piano. She has had three lessons already and is doing great. We just need to work on her paying attention to her teacher. It seems she wants to be the teacher instead of the teach-ee. She received her first recital book and although I have no idea about keys and notes I am trying my best to read the book and show her what to do. It really is a lot of fun though!
Here is a picture that Samantha painted earlier this week. (sorry about the quality, I took it with my camera phone)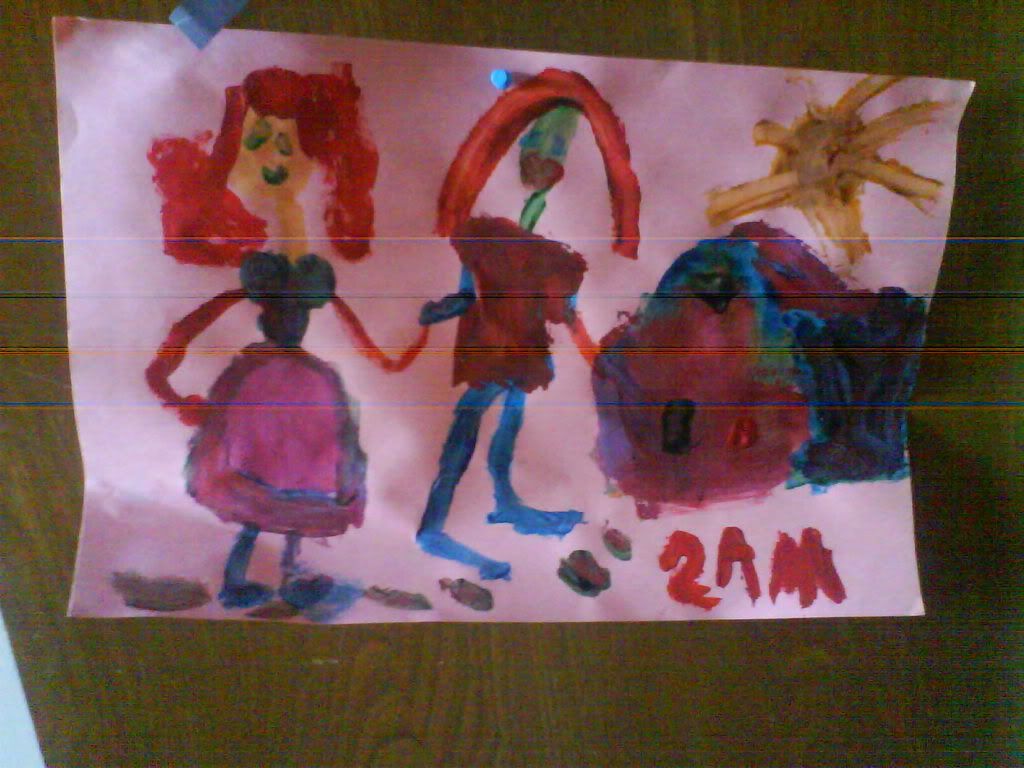 Today Sarah is 2 years and 6 months old. I can not believe my baby is two and a half now. Time is flying by. She is learning her colors, she knows pink. She likes to point to every color and every other color to her is green or pink, so when she points I say the color, she then moves to her letters and ever letter is "A" to her. So she points and says "A" and I say the right letter to her. She really wants to learn. She thinks she is 5. Yesterday I noticed that when I asked her what her name was she finally said "Sarah" although it sounds more like "I sawwwwaaaaahhh" She then points to everyone else and starts saying who they are. "momma" "mam-ma (grandma)" She calls Samantha "Sammy" She has also started giving us little devilish smiles and cocks her head to the side when she knows she is doing something she shouldn't be doing.
I have one last update on Sarah, some of you might jump on me for this, but I am one of those moms who thinks that babies should have their bottle for as long as they want. Well….. I mean, I don't think they should have them past 3 that's for sure. Anyways, so today is day #2 with no bottle and she did great. I am so happy to have that thing GONE! She is turning into such a big girl!
oh…. as for potty training, she is doing great on that. She tells me when she has to go potty, she does much better when she wears pulls ups. I CAN NOT wait for her to be potty trained! Lets see, it's been 5.5 years that I have been changing diapers, yeah I am tired and would LOVE a break before the next baby.
Tuesday night was my mother in law's open house at school and there was about 5 babies there. Boy did my biological clock start ticking (HAHA I know I have PLENTY of time to have more) But I sure did want another one, and I still do. But I just am not there yet. I am hoping by the fall. I always told myself that the fall Sam started kindergarten we would start TTC. Who knows though.