How to Plan a Fancy Nancy Tea Party
For Samantha's 6th Birthday we threw her a Fancy Nancy Tea Party! We planned the party for a few months and bought some goodies that we knew any Fancy Nancy Fan would love. Of course everything had to be "Fancy".
We invited around 20 little girls and asked all guests to wear their Fancy Dresses and come for a Tea Party.
In her books Fancy Nancy likes to go The King's Crown which is a Pizza Parlor so I made a sign that said The King's Crown. All the girls knew exactly what it was (they all read the book).
I decided to use all the small tables and chairs that were from my mother in laws kindergarten class and took out our dining room set. It was like a tea house for little kids. Each girl got their own real tea cup and saucer and we used real tea pots.
We made sure to serve the girls pink tea because that is what Fancy Nancy would drink! For food we did all of the kids favorite foods, yes even pizza bites since they were eating at The King's Crown.
The tea party itself took up most of the party which was great because we kept the kids contained to one room and well entertained.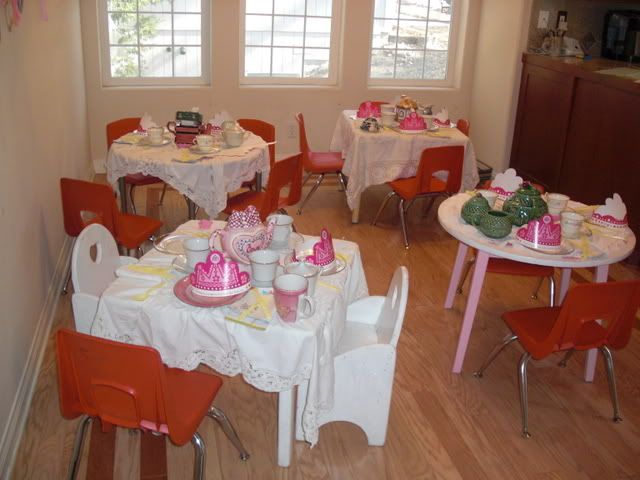 We followed the Tea Party with Pin the Con Fancy Nancy. I printed out the picture and colored it to match Fancy Nancy and the kids had a blast!

I also printed out the Fancy Nancy and the Posh Puppy Activity Sheets for the kids to do and color. We also bought the Fancy Nancy Party Pack from Birthday Express. I made my own invitations but I would highly recommend using digipixels.etsy.com who has the cutest Fancy Nancy Invitations.
Each of the guests received a goodie bag and inside had a pink boa, white sunglasses, a pearl necklace and a monogrammed key chain.  You can see more picture of the party at my Birthday In a Box Post.
You can see all the pictures from Samantha's Fancy Nancy Tea Party Here!