Holiday Jammies From Hatley!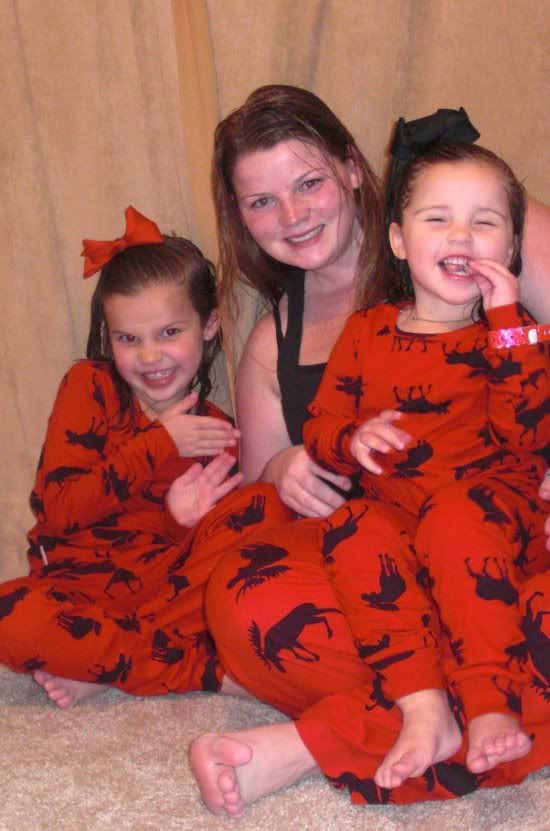 Who doesn't love a warm pair of Jammies? I know I do! And this year the girls and I get to match in our fun Moose on Red Pajamas!
The girls each received a Moose on Red Children's Pajama Set.
Hatley's children's pajamas are 100% cotton baby rib super combed for softness and comfort. The pajama set is a combination of an all over print knit long sleeve rib tee with all over print baby rib bottoms with an elastic waist band. Snug fit.
These pajamas come in sizes from 2T to a 6/7X. But for the younger crowd you can get them the adorable "Moose on Red" Overall Print Footed Coverall.
I decided on the Moose on Red Pajama Pants instead of the shorts, well because it's going to be freezing here in Arrowhead for the next 5 months!
These 100% cotton jersey lounge pants (affectionately known as Hatleys) are designed for quality and style. These pants come in an overall print with a drawstring waist. So comfortable, everyone should have a pair of Hatleys.
Even Hubby got a pair! Sadly the men's Moose on Red were out of stock so he received the Wild Winter Men's Flannel PJ Pants. Lounging isn't just for the ladies! These new pj pants for men feature drawstring / elastic waist and overall print design. 100% cotton flannel.
Yes, Hubby loves these pants. I didn't think he would like the print but he does and he agrees,
Hatley pajama pants are the best!