~ Happiest Moments Photos ~
Challenge #6 –
Challenge #6 is Happiest Moments Photos
"They say a picture is worth a thousand words – and it's true. A great picture captures the emotion of a moment and preserves it forever. Last Monday, we shared photos that inspired us. This week, our challenge is to share a photo that captures one of your happiest moments."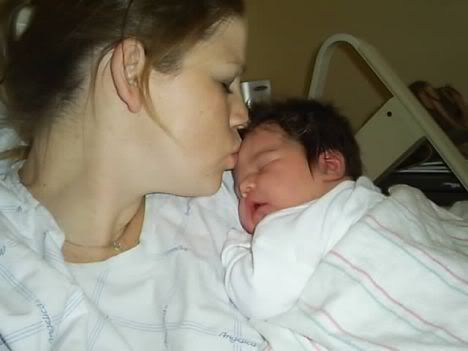 This is me right after I gave birth to our second daughter. I wanted to share the photo of me and my first daughter but I don't have one online, but my feelings are the exact same. I couldn't believe such a beautiful, perfect little person had grown inside me for 9 months and here she was.
I was so worried when I was pregnant with #2 because I kept thinking to myself "how could I possibly love someone else as much as I love Samantha (first baby)" I was in love with this baby the second I saw her. I still remember her delivery like it was yesterday I remember how I kept trying to see her coming out (her face was turned to the right) and when I saw she was a girl I was ecstatic. I was so happy to have another daughter and so happy for Sam to have a sister. This was one of the happiest moments after giving birth, it was just me and the baby, hubby went to his parents to take a shower and have dinner with his parents, and I remember all I wanted to do was kiss this new little person and let her know how much her mommy loved her and I was so thankful God gave me a chance to be a mommy again.
So this is my happy moment, I look at this picture and I can't help but smile, sometimes I even find myself with happy tears. this was the moment our family grew and the love in our home grew.