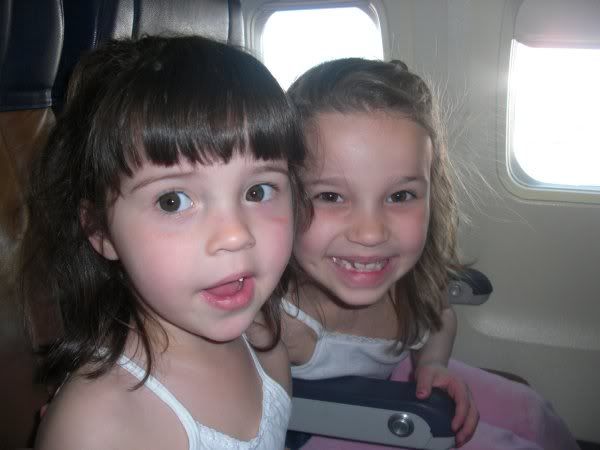 As most of you know on April 6th the girls and I left for a three day trip to Kansas City, MO to check out Hallmark Headquarters! We also with 11 other Mom Bloggers were flown out there to see what is behind this amazing company! I was very impressed with Hallmark because they offered us to BRING our children! I mean come on, a company who is willing to fly my girls and I all the way to Kansas City MO from Southern CA is highly ranked in my book!
I of course was so excited about this trip because first, I LOVE Hallmark. I mean I love Hallmark! Anything that has to do with gift giving and making memories you will find Hallmark in there somewhere! Secondly I was extremely excited because I knew the other Moms who were going including my little sister and my  friend Tanya who I have known for 8 years and we have never met in person… until Hallmark brought us together!
Hallmark also gave me the chance to see my sweet little niece who I miss dearly! When she saw me she was shy but gave me a huge hug and I melted!
A few of us moms got together the first night and had dinner together. It was fun chatting at dinner and the kids had a blast together!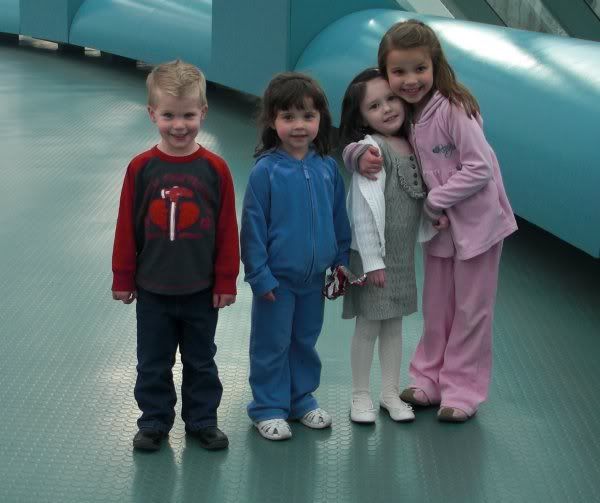 The first evening we were out there it was a great way for us Mom Bloggers to meet and chat. Which by the way we did get in trouble because we were being to loud in the Hallway of the hotel. First off, they put all of us Mom Bloggers on the same floor in the same wing, so while the kids were sleeping in our rooms we sat in the hallway chatting away.
(thanks Sam for this picture)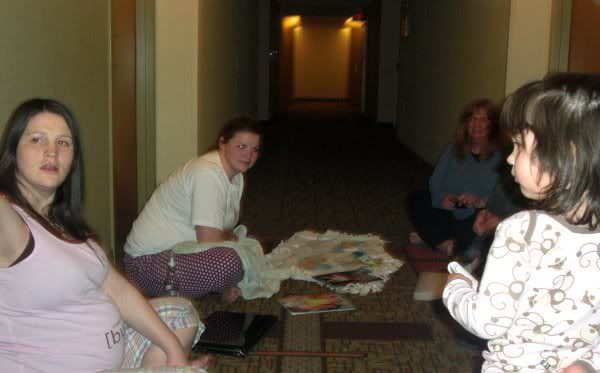 The moms and I stayed up rather late chatting away. It was a blast! Samantha even got to sleep with her cousin Kaila!
The next was filled with tons of activities for not only the kids but for us moms as well! After dropping off the little ones (kids under the age of five), we headed over to hallmark Headquarters where we enjoyed a yummy breakfast and to start off the day a tour of Hallmark's Visitor Center including the History of Hallmark, Hallmark Hall of Fame, and also we saw how some of the products were made!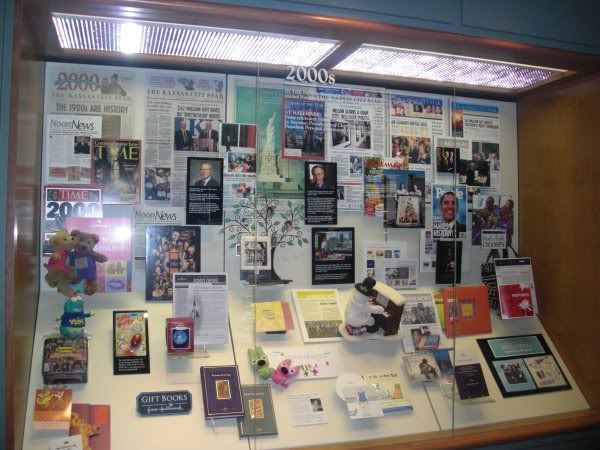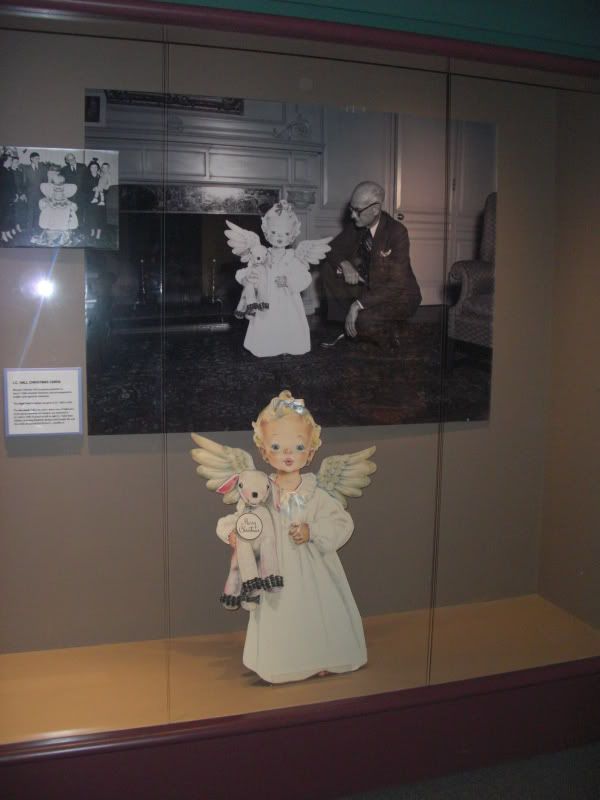 The very first spool of ribbon hallmark made: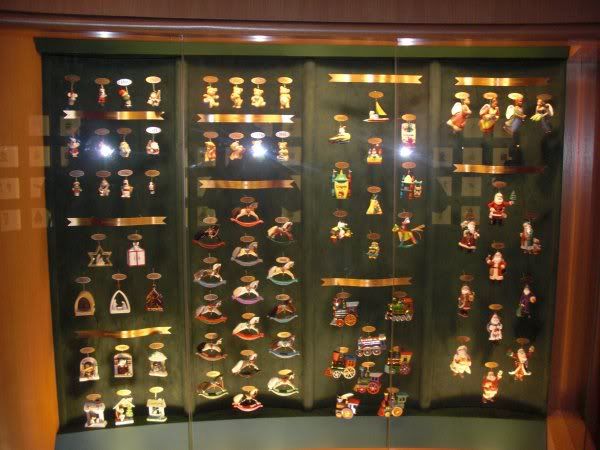 It was amazing seeing how the older children reacted to the tour. I think they were just as amazed by hallmark as us moms were!
Here the kids discovered the ribbon making machine, they didn't want to leave. You could press a button and watch the machine build a bow and then the bow would pop out into your hands. We literally had to peel them away from the machine. I remember hearing Jackson saying "But I only have FIVE!!"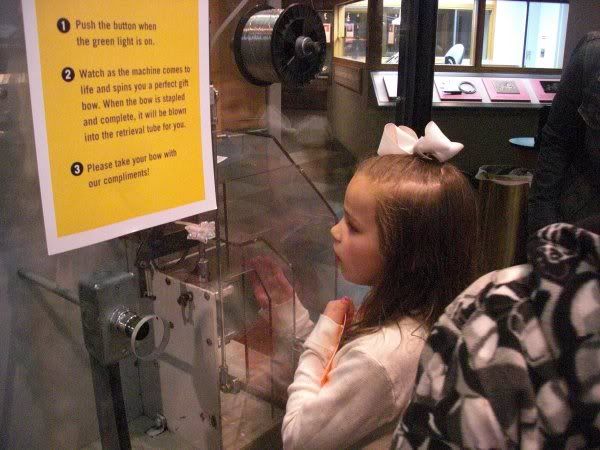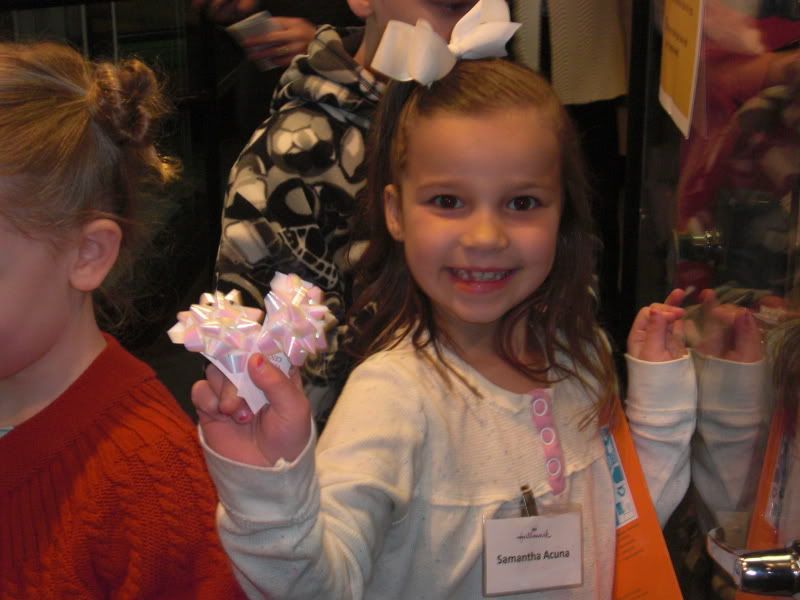 After the tour we sat down to watch an inspirational film and then a wonderful open discussion with Tara Morrow who is the Vice President of Creative Writing and editorial.

After that we sent our older children to Kaleidoscope at Hallmark where they let their creative juices flow!


Then we headed to the "round table" where we met Patti Streeper who is responsible for providing overall leadership and direction for Hallmark's innovation process, and Deidre Mize who serves as a national campaign manager for Hallmark Cards. These three wonderful people told us more about how they market products. We also learned about how they generate ideas for products. Patti talked about how they have steps to create a new approach for innovation. They also bring in many people to take a look at products and give their input. Which is what us Mom Bloggers were able to do as well!

Then it was off to lunch! MMMM BBQ!!! At lunch we met Steve Doyal who is Senior Vice
President of Public Affairs! Lunch was yummy! I would gladly go back to Kansas City MO just for the BBQ.. it was amazing! But what was also great is that at each table was a few mom bloggers and we were able to share our ideas with the marketing. They asked us how we reach out to other moms, how we use our sites for marketing. And they also asked us if we had any ideas for Hallmark products. Basically they wanted feedback!

After lunch we headed back to the "round table" where we met creative writers and people behind the product of hallmark! Yes it was AMAZING! We heard from Derek McCracken, Tina Neidlein, Andre du Broc, and Heather Hale. We learned what each does and their role as creative writers!

We also were able to go and see new cards that havn't been released yet and give our opinion on them! Trust me when they come out your going to love them!
After that we met back up with our kids, and got to see more kid friendly products that are still in their prototype form. More AMAZING products that I will be first to purchase! We also received some beautiful Mother's Day gifts from Hallmark and our children! Yes, the cards made me tear up.

Overall I had an absolute blast at Hallmark and after my experience I can tell you hallmark has my heart! It is a company based on love. That is as simple as I can put it. When your at Hallmark you feel like your apart of a huge family. One supportive and fast paced family! I was also impressed and surprised that the entire creative process is all done on site at Hallmark. So Hallmark if your hiring for an on site Mom Blogger let me know!
I made so many new friends, and so did my girls! Samantha begs me on a daily basis to see Jackson again! Jackson is Janice from 5 Minutes For Mom son. She also loved playing with Olive who is Gabrielle Blair's daughter.
Tanya and I stayed a second night just so we could relax and visit. The kids had a lot of fun playing together!

We went out to dinner with Janice and Jackson, which by the way Samantha invited herself to their room so her and Jackson could play with their DS lites' together. At dinner we all enjoyed each other's company and our kids ran wild!
Here is a picture of our kids eating breakfast in the hotel room.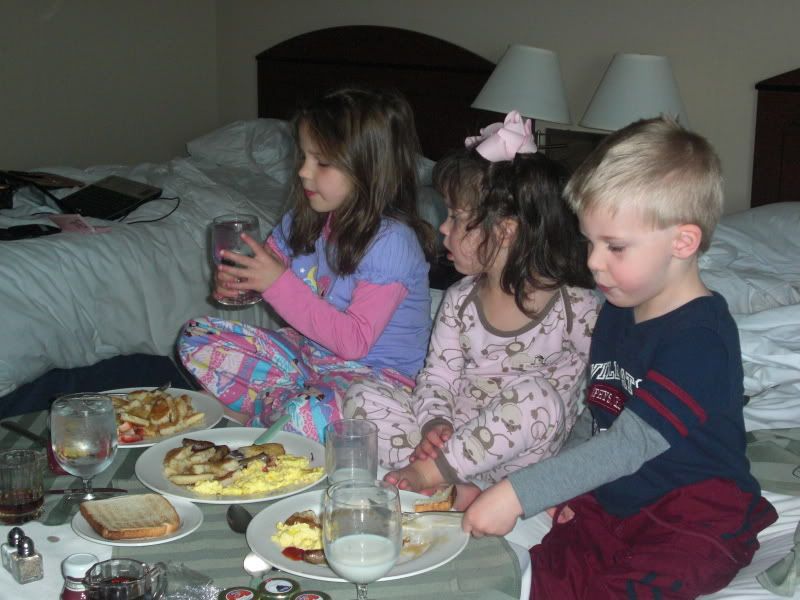 You can see TONS more pictures from the Hallmark Mom-event at:
From Hallmark: Flickr
From Gabrielle: Flickr