Family Traditions with Hallmark
Growing up my Aunt would always buy new Ornaments from Hallmark. We couldn't wait to see the new ornaments that would be added to the collection each year as we decorated the Christmas tree. To this day I can't wait to see which
ornaments would be new, as as I look at their tree I has flashbacks to when I was a kid and the fantastic Christmas' we would have growing up.
Last year was my first year asking for Hallmark Ornaments for our Christmas Tree. My very first Hallmark was from an Ornament swap. I received The Magic of Frosty from Hallmark.
This year we have some beautiful Ornaments thanks to Hallmark.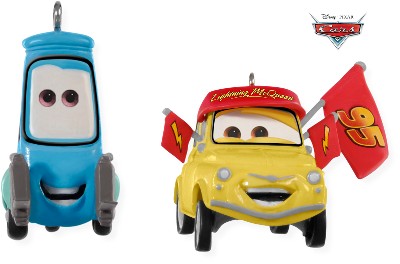 I think that my Hubby's favorite ornaments this year will be the Luigi and Guido: Race Fans! Set of two ornaments. Designed by Kristina Kline-Gaughran. Sculpted by Don Palmiter. Luigi: 1 3/4″ W., Guido: 1 1/2″ W. They are the cutest tiny ornaments ever!
A few others we received and I love are the Sugar Plum Fairy, Happy Feet, Princess Dreams.
The Sugar Plum Fairy is beautiful. The classic sounds of the season add a magical touch to this sweet scene. Pull the cord to hear one of three parts of "Dance of the Sugar Plum Fairy" by Tchaikovsky. While the music plays, the ballerina gracefully spins. Battery operated. Designed by Edythe Kegrize. I have not shown Samantha this ornament yet as I know she would not want to put her down. I know this will be a favorite of Samantha's.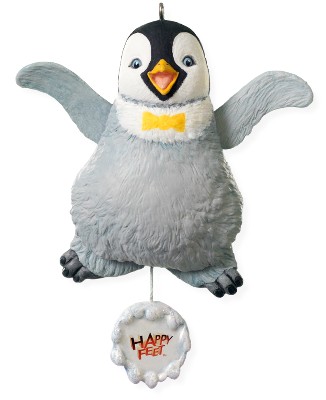 Sarah will love the cute Mumble Dances from the movie Happy Feet. You can almost hear the tap-tap-tapping as Mumble breaks out into dance. Perfect for those who groove to a different beat. This fun ornament can be placed lower on the tree and so fun for the younger kids. You pull on the cord and help Mumble dance!
And of course for the Princess lovers out there, you have to get them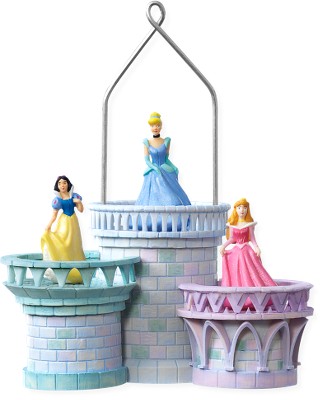 the Princess Dreams . Snow White, Sleeping Beauty and Cinderella are on this adorable ornament. Three Disney princesses stand on the balcony of the castle, each with a dream of finding her prince.
So now that we have some ornaments for our tree, I also have some fun wrapping paper as well. I love the Adhesive wrapping paper. No need for tape!
You can find some wonderful items to get ready for the Holidays at any Hallmark Gold Crown Stores.