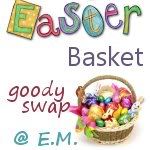 Hey everyone!!! There is a super fun Easter Basket Goody Swap!! I am so excited, for once us MOMs get an Easter Basket!!!
You have to be a member of the forum at Extraordinary Mothers to sign up! But it is so much fun!!
Signups end on the 24th!
Click the banner for more info!