Dare to Compare White Cloud Laundry Detergent #DareToCompare
This is a Sponsored post written by me on behalf of White Cloud for SocialSpark. All opinions are 100% mine.
Laundry… it's something I do on an almost daily basis. From three kids, to my husbands fishy work cloths and my workout gear.. there is TONS of stinky laundry laying around here.
I was recently asked to check out White Cloud Laundry Detergent and "Dare to Compare" it with my detergent that I use on a regular basis. I am always up for a challenge!
If you haven't heard of White Cloud, well that's because it's new but in less than six months of launching White Cloud's new Laundry Detergent, a leading consumer magazine has already named White Cloud Laundry Detergent as #1 in value and #6 in cleaning.
I knew right away that I was going to use one of Shelby's tops for this challenge and she recently got one of her onesies covered in peanut butter and what looks like marker. I used the Blooming Lavender Detergent which smells like lavender and it has a soothing smell to it.
So here is the onesie before! (pretty dirty right?)
I washed the onesie with a regular load of like colors (mostly Shelby's other clothes). I was pleased to see that most of the stains had come out in the first wash. The marker spots did not come out however (must not have been a washable marker).
All of the peanut butter washed out…, but you can still see the dingy area in the middle of the onesie.
Overall I was happy with how the Laundry Detergent worked, it did get out the peanut butter and make the clothes smell good. I liked that the clothes felt soft when they came out of the dryer, and even with my kid's sensitive skin we have not had any issues with the detergent.
I did try washing the onesie using our regular detergent and it looked the same so I think that White Cloud worked as much as it could on the stain.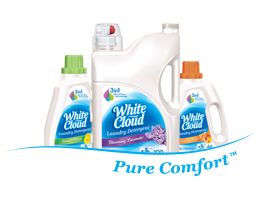 Be sure to print out the $2.00 off coupon and Like White Cloud on Facebook. You can also Follow White Cloud on Twitter and Follow White Cloud on Pinterest. Also use the Store Locator to find a Walmart near you that carries White Cloud Laundry Detergent.
Disclaimer: Limit one coupon per purchase on product specified. No cash back if coupon value is higher than purchase price. Void if reproduced, transferred, used to purchase products for resale or where prohibited/regulated by law. Not valid on trial sizes. Consumer pays sales tax. Redeemable at participating retail stores. Valid only in the U.S.