I had my very last OB appointment. I remember sitting in my OB's office crying… crying because I so desperately wanted the little life that had been growing inside of me to come out. Not because I was in pain or miserable. I am one of those women who enjoy every aspect of pregnancy. I knew once my child made their debut all those tiny kicks and hiccups that for the past 9 months had been all mine were going to end. I so desperately wanted to meet this little person and kiss their sweet face, for them to know how loved and special they were.
6 years ago Pat and I finally ended a 100+ day cycle and started fertility treatments. It only took us a few months and we were finally pregnant with a little miracle and we found out on Easter 2005. Waiting those 9 months was the longest time ever.
back to Nov. 29th 2005… So I sat crying in my OB's office because I was ready to meet our baby and my OB said "It looks like your going to be pregnant for at least another week. Your closed, cervix is thick and baby is still very high"… and I believed him.
I spent the whole day sad, Pat tried to make me feel better but it didn't help much. Samantha (my wild child) was the only one to take my mind off the baby. Sam was 2 at the time and a little tornado!
Around 3pm I noticed I was having some contractions. I told Pat and he said lets time them… and we did. By 5:30pm we knew that exactly every 4 minutes I would get a contraction and I did.  It's funny because we would look at the clock at that4 minute mark and sure enough I'd get a contraction.
My in laws were having dinner at the Chinese Restaurant at the time, so we had to drive Samantha over to them before heading to the hospital.
By 7pm I was settled in the hospital room and already was at a 4cm. The nurse was shocked because only 9 hours before the Dr had said I wasn't dilated and cervix was thick. She said I definitely would be having a baby before the night was over.
My labor with Sarah was wonderful. Pat and I shared those last few hours together, just walking the halls.  Around midnight I remember begging for an epidural, I was at an 8. I barely got an epidural only to turn around and push….
45 minutes later on November 30th, 2005 at 1:42 am Sarah came into the world, she cried at first and then was quiet and didn't  make a sound. They whisked her away to the warmer and had to suction her out pretty bad. She had ingested meconium pretty bad and they were a little worried.
When they finally handed me back my baby I was in love. It was love at first sight.
Over the past 5 years this tiny person has changed my life forever. She amazes me every day and I just love her.

My baby's 1st Birthday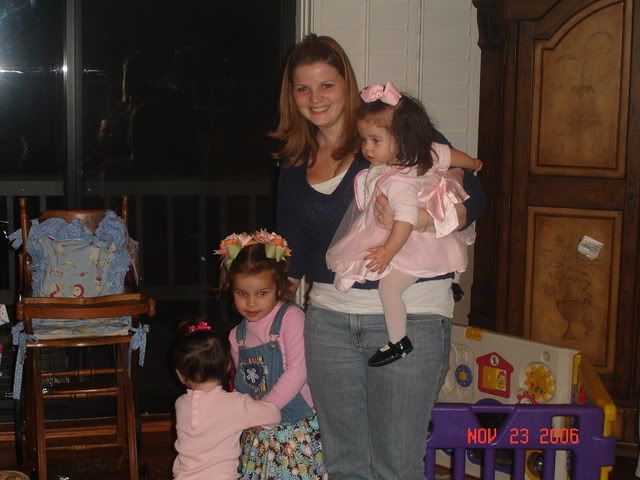 One thing I love about my blog is I have blogged her birthday's since she turned 2!