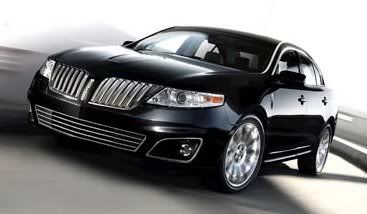 MKS is the all-new Lincoln luxury flagship, a dynamic and elegant vision of the Lincoln design DNA, meticulously crafted with exclusive materials and offering the largest selection of comfort and convenience technology features of any other luxury sedan in its class.
"The Lincoln MKS is a substantial car with a well-proportioned athleticism and several signature design cues we developed after carefully auditing the best Lincoln design elements over time," says Peter Horbury, executive director of Design, The Americas. "Lincoln design has always been more discreet, exuding a kind of understated luxury, and we've designed this luxury sedan understanding that the Lincoln owner views the MKS as a reward for hard work, not simply an outward symbol of status."
With its striking double-wing grille, sculpted hood and fast-raked windshield, the broad-shouldered Lincoln MKS is a tribute to classic Lincoln design. Rife with elegant details
and distinct interior options, the sedan offers exceptional quietness and comfort, along with a confident driving experience that puts the driver in command. Combine that with standard SYNC communications and entertainment system, SIRIUS® Travel Link™ and THX® II Surround Sound Audio System, and driving becomes a true pleasure.
"Drive the new Lincoln MKS, and its engaging and rewarding driving experience is immediately clear," said Michael Celentino, Lincoln MKS chief engineer. "The power is smooth and responsive, absolutely fitting the character of the new flagship Lincoln luxury sedan. This automobile creates an outstanding first impression and lives up to it."